SoundOut #12 Festival of Exploratory Music and Film
Dates & times
Sat 6 February — Sun 7 February 2021, 6.00 pm–10.20 pm
Location
ANU Drill Hall Gallery
This is the 12th year of the annual SoundOut festival, and in 2021 we will bring to you the continuation of the incredible explorative sonic arts event. This Experimental Music festival to will uplift tired ears, explore the unknown, see within the fabric of sound, unravel the threads of normative musical praxis, and question sonic hegemonies. Usually we host an International and interstate group of artists, however due to C19 restrictions and funding challenges we will host artists from the Southeast region in 2021. The festival will include Artists such as Brian McNamara, Charles Martin, Chayla Ueckert-Smith, Ethan McAlister, Jackson Weibe, Louise Curham, Miroslav Bukovsky, Monika Brooks, Old Media Orchestra [LC, RJ, TMB +], Paul Duchesne, Pip Gazard, Reuben Ingalls, Rhys Butler , Richard Johnson, Sally Golding, Siena Mitchell, Tom Fell, Tracy M Benson. We have also included experimental film, video and sound from the Old Media Orchestra using mostly old and "out-of-date media". It including some of the artists mentioned above: Louise Curham, Tracy M Benson, and on reel to reel tapes/radio transmitters etc Richard Johnson …+ other artists.
It will be held over the Saturday 6th – Sunday 7th February 2021 at the ANU Drill Hall Gallery with approximately 8 hrs of music spread over the 2 days; with 4 sessions of music comprising of numerous sets.
see Eventbrite for details and to book tickets.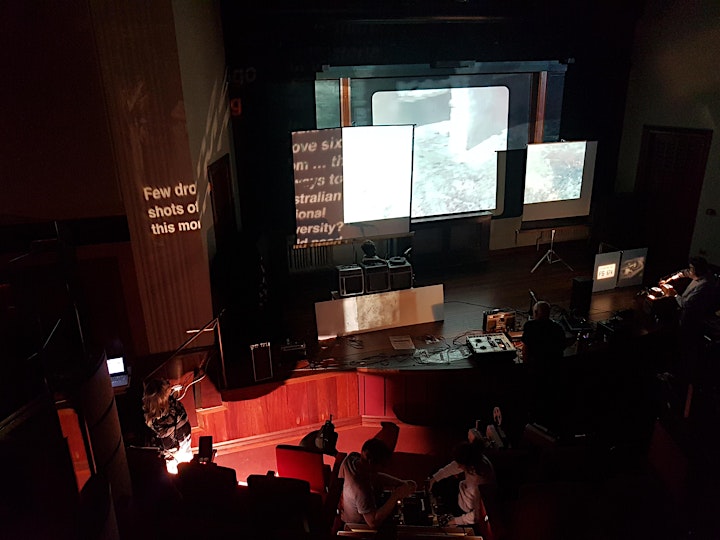 ---
Visitors to the Drill Hall Gallery:
For your safety, the Drill Hall Gallery will be following guidelines, recommendations and enforceable public health directions published by ACT Health and Safework Australia. We will be collecting contact tracing information from all visitors to the gallery.
To ensure a safe and healthy environment while visiting the Drill Hall Gallery at this time we request that you:
Stay at home if you are unwell.
Stay at home if you have been in contact with a known or suspected COVID-19 case.
Practice good hand hygiene and cough etiquette.
Utilise hand sanitisers provided at the entrance of the gallery.
Assist our staff in filling out your contact tracing information on entry and exit from the gallery.
Maintain1.5 metres distance from other visitors and staff.
Comply with the number restrictions clearly signposted in each of the gallery spaces.
Comply with any written or verbal directions from staff.
Use contactless payment for any purchases made at the Drill Hall Gallery.
Consider downloading the COVIDSafe app if you have not already.
Thank you for your patience and understanding, and we appreciate your help in keeping our community safe during this time.
For information on ANU's privacy policy please refer to: https://policies.anu.edu.au/ppl/document/ANUP_010007
Contact
Richard Johnson